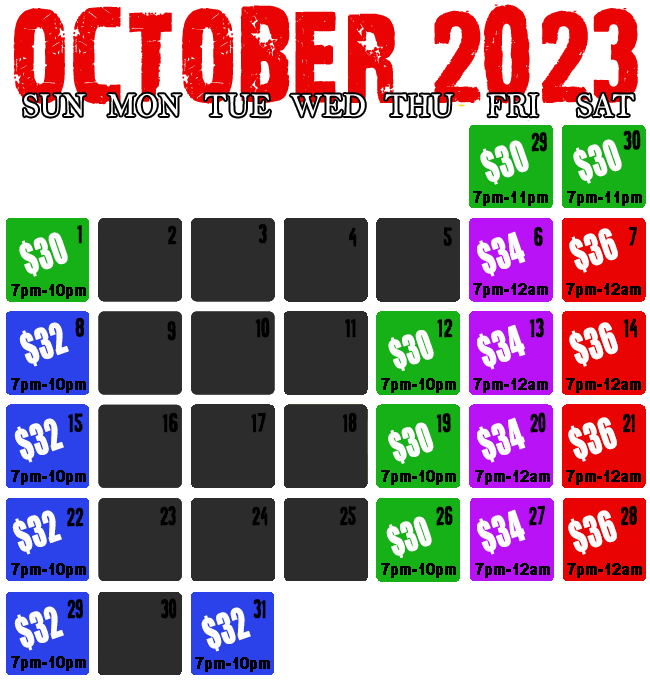 Tickets
Before purchasing tickets, please read our FAQ, which includes a WARNING and DISCLAIMER.
offer the most flexibility! Valid ANY night of operation, Immediate Entry! Get escorted to the front of the line! Guests are given a Maniac Wristband to identify this purchase.
Standard wait. Tickets only valid for date you select.
Pricing by Night Color: $29.99, $31.99, $33.99, $35.99
Shorter wait. Fast Pass is not necessary every night. Thursdays and Sundays are typically the shortest lines.
Pricing by Night Color: $44.99, $46.99, $48.99, $50.99
Dare To Be Touched Upgrade
is only for guests age 18 or older with proof of ID. Take your scare to the next level! You may be touched, grabbed, separated from your group, and even become part of the show!
includes our 4 Mini-Escape Rooms! One Midway Ticket per person, per attraction.
Online Ticket Sales
Save time by purchasing your tickets online. Online ticket holders are able to enter the premises quicker by avoiding the potentially lengthy box office queue. No need to print your tickets, we can scan your phone.
Box Office Ticket Sales
Tickets are available for purchase the night of the show at our box office. The box office opens at 7pm. We accept cash and all major credit/debit cards. Tax is included in the ticket price. The box office closes 30 minutes prior to the scheduled end time for that night. We recommend purchasing your tickets online in advance to guarantee entry.
Group Tickets
Group Ticket rates are available for groups of 10 guests or more. Email us to book your group reservation scream@deadmansfarm.com
Parking
Parking is available on-site for a $5 parking fee (CASH ONLY.) Please carpool when possible. Our parking lot is lit with parking attendants to direct you.
Opening, Closing & Doing Everything
Opening – The walk-in gate and ticket booth will NOT open before 7pm.
Closing – The walk-in gate and ticket booth will CLOSE each night at the scheduled closing time. Each attraction will stay open for those guests already in line at closing time, but the attraction will close once the line for that attraction is empty.
*** Depending on your arrival time and how many attractions you bought tickets for… guests may not be able to complete all attractions in one evening. We have a lot of things for you to do and see. Tickets are only valid for the date you select, except for Maniac Tickets which are good for any night. No refunds or exchanges.